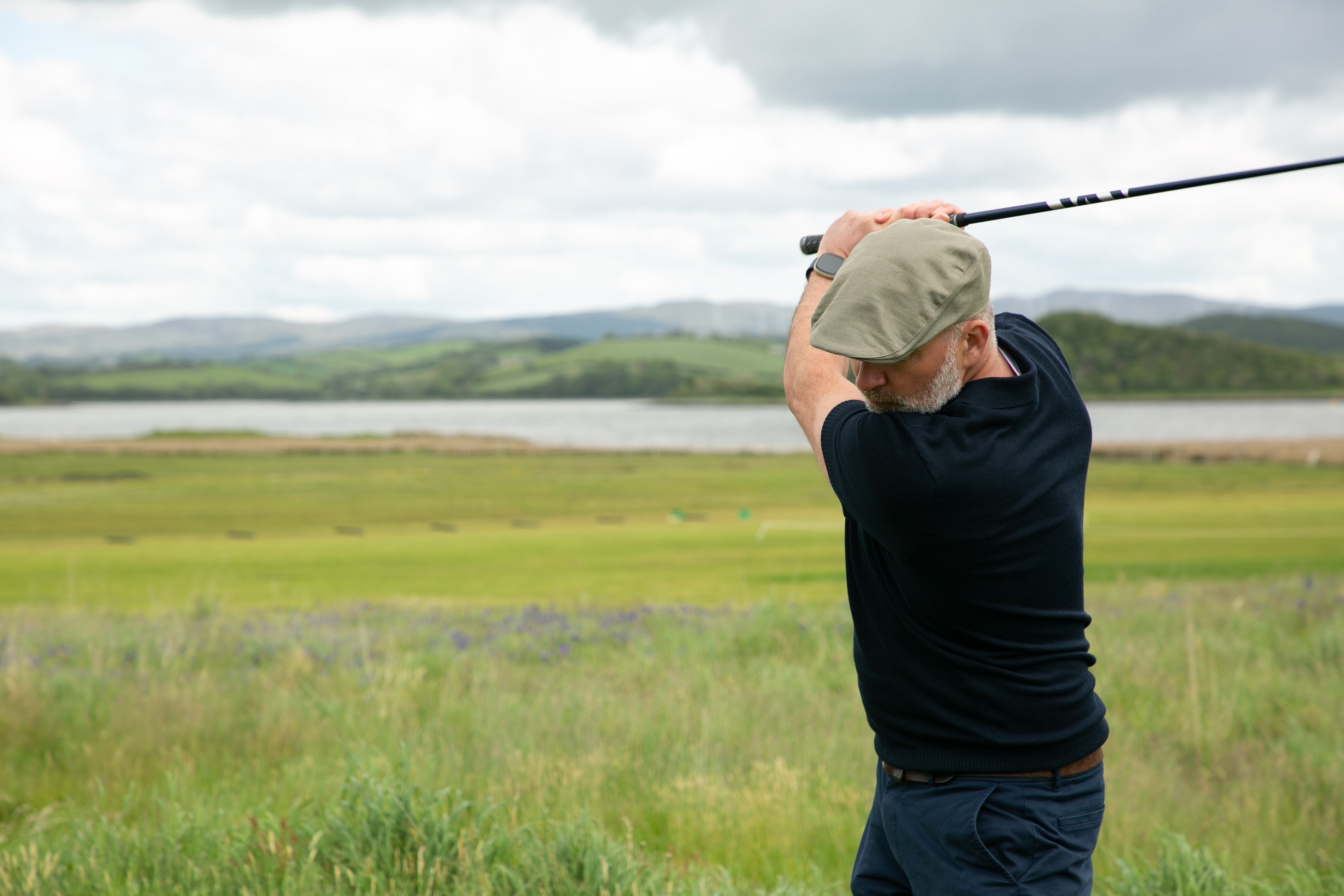 Linen Caps for the Golf Course
When the warmer temperatures come rolling in, it's fun to enjoy outdoor activities with friends and family. Much like when we're in the depths of winter and we need to wrap up to keep warm, we also need to protect ourselves from the sun in the summer.
Linen transmits sun away from the wearer and is a natural breathable fabric, so it will keep you cool while you enjoy outdoor activities during the summer like a round of golf with friends. Our linen caps are the perfect way to keep the sun off your face while also looking stylish at the same time.
Whether you think of yourself as Shane Lowry or Rory McIIroy on the golf course, you'll know how important it is to protect yourself from the elements when you're out playing a round of golf. You wouldn't want the sun to affect your game! Wearing a cap whilst playing golf not only shields your face from the sun but it also helps narrow your vision on the ball in front of you, which saves you from getting distracted by things in the background, such as other players and crowds.  
We offer; Vintage Cap Linen, Donegal Touring Cap Linen, Connery Cap Linen, and JP Cap Linen in a considered collection of neutral tones, patchwork and patchwork Grey/Blue. In this blog post we'll bring you through our linen collection highlighting which styles will help you look the part and play your best on the golf course this summer.
Donegal Touring Cap Linen
Many people wear baseball caps while playing golf, but our linen caps offer better protection and a more elevated look. The Donegal Touring Cap Linen is a streamlined, tailored fit cap ideal for those who prefer a slimmer silhouette. This flat cap sports an integrated, stitched-down curved peak and a deep back for a secure fit.
The Donegal Touring Cap Linen is available in a selection of neutral tones, Patchwork Linen and Patchwork Grey/Blue Linen.
Vintage Cap Linen
If you prefer a more traditional style flat cap, then our Vintage Cap Linen is the cap for you. This flat cap has a full body and flat peak. The concealed stud-button, flat peak protects the face from the rain, wind and sun making this cap a perfect choice for the golf course this summer.
Our Vintage Cap Linen is available in neutral colours such as Navy and Natural, patchwork and patchwork Grey/Blue.
If flat caps aren't your style and you prefer a newsboy cap, then the JP Cap Linen or the Connery Cap Linen may be for you. 
Connery Cap Linen
The Connery Cap Linen has a neat body and flat peak, while the JP Cap Linen has a neat body and a longer curved peak. We offer the Connery Cap Linen in Black, Khaki, Natural, Navy and four limited-edition colours for summer 2023.
JP Cap Linen
No matter how your game is progressing, you will be sure to look the part in any of the caps featured in our linen collection. These caps look great on and off the golf course. You can explore our full linen collection here. If you would like to learn more about linen as a fabric and the benefits of wearing it in the summer, you can check out our Linen Caps for Summer blog here.
Some of the images featured in this blog were taken at Donegal Golf Club, Murvagh, Co.Donegal- our local golf club, which is in a stunning location overlooking Murvagh beach & the Atlantic Ocean on one side and the Bluestack mountains on the other- a must visit for golf lovers visiting Donegal. We would like to thank the Golf Club team and the local golfers for allowing us to shoot there, being great sports and for getting involved.
It's that time of year where it's time to spoil our dads or the father figures in our lives. Fathers can sometimes be a little trickier to pick out a gift for, but we know from our customers that a...
Read more
The Transition to Linen When the warm haze of summer is on the horizon, it means it's time to retire your tweed caps until the cool, crisp air of autumn returns. Many seasoned members of the Hanna ...
Read more